Blueprints,Signs,Banners,Printing,Bond Copies,Shredding Documents,Design Services,Vinyl Lettering,Site Signs,Color Copies,Quick Copy,Dgital Archiving,Yard Signs,Car Magnets,Laminating & Mounting,Window Graphics, Paper Sales,Machine Sales,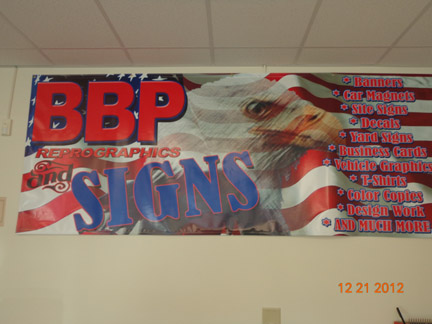 BBP Sample work
BBP Reprographics has three convenient
locations to serve you!
Fayette CO / Peachtree City, GA.
1968 Hwy 54 West-Suite C
770-487-3355,
mail@bbprepro.com
Columbus, GA 31901
Downtown -1200 13th Street
706-324-1374,
bbprepro@knology.net
Columbus, GA 31909
Northside - 2515 Old Whittlesey Road
706-507-2216
bbpnorthside@knology.net
Anajet T-shirt Printers make excellent door stoppers.
"QUALITY AND SERVICE THAT CAN NOT BE DUPLICATED"